Posted: 08/12/2020 07:54 AM
Last Updated: 09/15/2020 09:27 AM
Virtual Fair 2020
While the Fair has been postponed to 2021, we are still conducting a virtual show and sale of livestock animals. This sale will be for MARKET animals only (sheep,meat goats, hogs, steer).
Students MUST participate in the Virtual Show in order to sell in the Virtual Auction.
Your registration form for the Virtual Show, Consignment Form for the Virtual Auction along with your $25.00 fee are due to the Fair Office by August 7, 2020.
Video, pictures and Bio will be due September 8, 2020
Virtual Fair Video Requirement for FFA and 4H
Video Requirements for FFA and 4H
The focus should be on the animal not the exhibitor. However, you must include a shot of the exhibitor and the animal with the exhibitors face visible at some point in the video.
For shows with an entry card, please make sure you show the card then pan up to the exhibitor in one motion.
Please show all views and angles of the animal.
Your animal must be clean.
Fit your animal as if you were going into a live show ring.
Appropriate show attire must be worn.
No previous awards, banners, etc. may be in the background of the video. Belt Buckles can be worn.
Do not state your name, club, breeder or any details about your project. No talking is permitted in the submitted video.
Do not alter the raw video by placing any overlays, etc. • Sheep and goat videos must be between 30 and 60 seconds, and no more than 500 MB.
All other specie videos must be between 60 and 90 seconds, and no more than 500 MB.
All videos need to be submitted in a horizontal 16x9 aspect ratio. To do this, simply rotate your phone to "Landscape Mode" - see explainer image below.
IMPORTANT: THIS IS MEANT TO BE A LEARNING EXPERIENCE - HAVE FUN - BE COMPETITIVE & GOOD LUCK! YOU HAVE WORKED HARD FOR THIS MOMENT!
Online Market Sale
Registration:
Each exhibitor is allowed to sell one market animal in the online market animal sale.
Exhibitor must have shown animal in the virtual show to be able to sell at the auction.
Exhibitors are to use the honor system to declare their market animal meets the weight requirements for the Chelan County Fair. Weight requirements for livestock can be found in the Chelan County Fair Book.
Exhibitors must register for the sale by August 7th, 2020. Registrations can be completed by completing the registration form and submitting to the Chelan County Fair Office.
Quality Assurance Market Health Records for all species and brand slips for beef are to be provided at time of animal drop off.
An email with your animal's tag number, your full name and your chapter/club in the subject line. In addition, in the body of the email, a description/bio of your project and approximate animal weight to be used in your lot of the auction is to be provided by September 8th, 2020.
Pictures of your project will be used from exhibitor's pictures submitted for the virtual show.
Virtual Auctions:
Auction will be conducted by Chelan County Fair, Best Bid Auctions, LLC and Virginia Feeders, LLC.
Auction will start the Monday following the virtual show and conclude that Thursday evening.
Sale order will be determined by the placing of the virtual show. Tag number order will be substituted for sale order outside of virtual show placings.
Sale will happen at bestbidonlineauctions.com
Animals will sell by the head, not the pound.
Exhibitors pictures, name, 4-H Club/FFA Chapter, approximate animal weight and project bio will be viewable by bidders over the course of the auction.
Exhibitors are strongly encouraged to reach out to potential buyers to instruct them on the online auction this year. All previous bidders at the Chelan County Fair will be notified of the online auction format.
3% will be deducted from the exhibitor's sale amount to cover administrative costs associated with conducting the auction.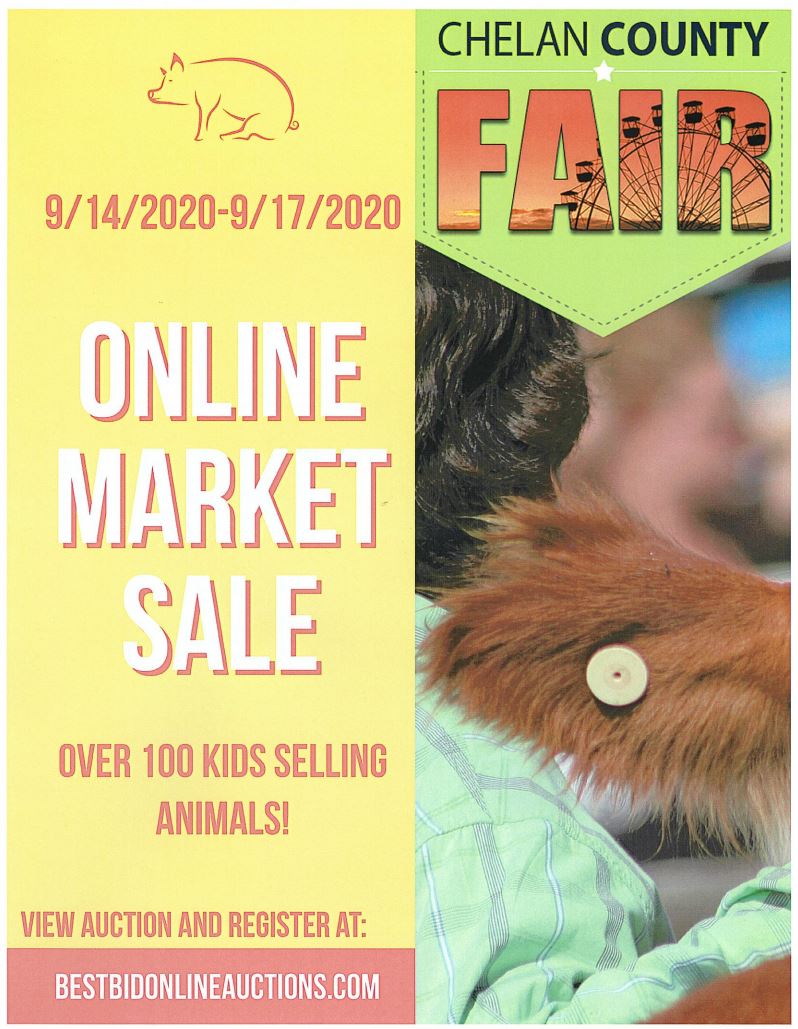 Chelan County Virtual Fair Videos
Virtual Fair Forms
Online Market Sale Registration Form
Support Instructions:
Please make checks payable to:
CCF FFA & 4-H Youth Fund.
Mail your checks to:
Chelan County Fair
5700 Wescott Drive Cashmere,
WA 98815
---